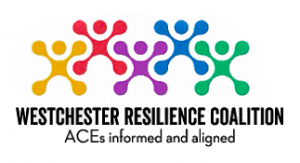 The Westchester Resilience Coalition builds awareness of adverse childhood experiences (ACEs) as a public health concern. The Coalition seeks to foster individual, family and community resilience in Westchester County by supporting the development of creative responses to the challenge of ACEs.
The vision of the Coalition is that all services in Westchester are informed by and aligned with the science of ACEs and resilience, and by an understanding of how protective factors strengthen individuals and communities. Our vision embraces core trauma-informed principles and wellness practices that we know are effective. Principles include safety and trust, peer support, voice and choice, mutuality and reciprocity, physical and emotional well-being and security, racial equity, and a networked community of support.
Our key aims include:
Effective service experience for clients and providers,
Improved outcomes,
A stronger return on our shared investment in health services and supports,
Enhanced community wellbeing.
The Coalition recognizes the wisdom of local communities to realize this vision in unique and culturally-sensitive ways.  We seek to offer a basis for a shared understanding across communities, cultures, disciplines and service systems.  We advocate for equity at all levels and across socio-economics, race and culture. 
Specifically, the Coalition promotes community conversations to engage multiple stakeholders and disciplines. We plan to host regular forum to help communities and providers share and learn from each other and from national best practices. Information gained from these efforts will be gathered and assessed to inform future actions.
Organizations that support the aims of the Westchester Resilience Coalition are invited to join us by pledging to promote awareness of the implications of ACEs and strategies for Resilience both within your organization and in your community.  The Coalition is led by individuals drawn from service agencies and community organizations who commit time to outreach and facilitation.  These groups are listed below.
Individuals who support our aims are invited to share their email to receive notice of future events and updates to this website.